Ambassadors
Masters of their Artistry & Craft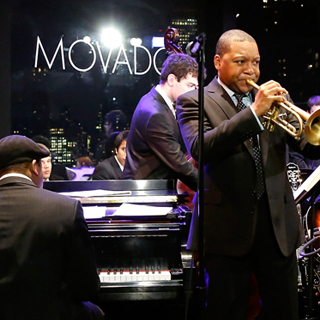 Wynton Marsalis
Trumpeter Wynton Marsalis is a giant in the music world, lauded for his work in both jazz and classical music. By creating and performing an expansive range of brilliant new music for quartets to big bands, chamber music ensembles to symphony orchestras, tap dance to ballet, Marsalis has expanded the vocabulary for jazz and created a vital body of work that places him among the world's finest musicians and composers.
Marsalis is the world's first jazz artist to perform and compose across the full jazz spectrum, from its New Orleans roots to bebop to modern jazz. A nine-time Grammy Award winner, in 1983 he became the only artist to have won a Grammy for both jazz and classical music. And in 1997 he became the first jazz musician ever to win the Pulitzer Prize for Music for his epic oratorio Blood on the Fields.
Born in New Orleans, Louisiana in 1961, Wynton began performing traditional New Orleans music at the age of 8. At 14 he performed with the New Orleans Philharmonic and the New Orleans Symphony and at age 17 Wynton became the youngest musician ever to be admitted to Tanglewood's Berkshire Music Center. Moving to New York to attend Juilliard in 1979, the grapevine began to buzz as he started to pick up gigs around town. In 1980 Wynton seized the opportunity to join the Jazz Messengers and studied under master drummer and bandleader Art Blakley. In 1981 he assembled his own band and hit the road, performing over 120 concerts every year for 15 consecutive years. With the power of his superior musicianship, the infectious sound of his swinging bands and an exhaustive series of performances and music workshops, Marsalis rekindled widespread interest in jazz throughout the world. To date, Wynton has produced over 70 records which have sold over seven million copies worldwide including three Gold Records and nine Grammy Award winners.
Marsalis is also a prolific composer, and the dance community has embraced his inventiveness by awarding him commissions to create new music for storied institutions such as the New York City Ballet, the American Ballet Theatre, the Alvin Ailey American Dance Theatre, among others. In the fall of 2009, the Atlanta Symphony Orchestra premiered Marsalis' composition Blues Symphony, an infusion of blues and ragtime rhythms with symphonic orchestrations. Employing complex layers of collective improvisation, Marsalis further expanded his repertoire for a symphony orchestra with Swing Symphony, premiered by the renowned Berlin Philharmonic in 2010. Since that time, The New York Philharmonic, Los Angeles Philharmonic and Barbican have all signed on to perform Swing Symphony.
Wynton Marsalis co-founded, and became Artistic Director for Jazz at Lincoln Center and Music Director for the Jazz at Lincoln Center Orchestra in 1987. Due to its amazing success, Jazz at Lincoln Center was installed as new constituent of Lincoln Center in 1996, an historic moment for jazz as an art form and for Lincoln Center as a cultural institution. In 2012, Marsalis became the Managing and Artistic Director and under his leadership, Jazz at Lincoln Center has developed an international agenda presenting rich and diverse programming that includes concerts, film forums, dances, television and radio broadcasts and educational activities. In 2013, the Jazz at Lincoln Center Youth Orchestra (JLCYO) was created to enhance the musical education of high school students from the New York tristate area through high-level professional training and performance opportunities.
Wynton's creativity has been celebrated throughout the world, and more than 30 of America's leading academic institutions have conferred honorary degrees upon him. ln 2005 Wynton received The National Medal of Arts, the highest award given to artists by the United States Government.
While Wynton's body of work is enough to fill two lifetimes, he continues to work tirelessly to contribute even more to our world's cultural landscape. The extraordinary dimension of Wynton Marsalis, however, is not his accomplishments but his character. It is the lesser-known part of him who finds endless ways to give of himself – the person who waited in an empty parking lot for one full hour after a concert in Baltimore, waiting for a single student to return from home with his horn for a trumpet lesson, the citizen who personally funds scholarships for students and covers medical expenses for those in need. Immediately following Hurricane Katrina, Wynton organized the Higher Ground Hurricane Relief Concert and raised over $3 million for musicians and cultural organizations impacted by the hurricane. Wynton Marsalis has selflessly donated his time and talent to non-profit organizations throughout the country to raise money to meet the many needs within our society – from My Sister's Place (a shelter for battered women) to Graham Windham (a shelter for homeless children), Food for All Seasons (a food bank for the disadvantaged), Very Special Arts (an organization that provides experiences in dance, drama, literature and music for individuals with physical and mental disabilities), and for many, many more, Wynton has responded enthusiastically to the call for service. It is Wynton Marsalis' commitment to improvement of life for all people that portrays the very best of his character and humanity.